Find out more
If you are looking for some high-end accommodation for your camping holiday, our Premium mobile homes are made just for you! We offer specially designed accommodation, equipped by our teams, providing unparalleled levels of comfort and a high quality lifestyle. The villa range, which has large terrace-balconies, features a pleasant living area with a focus on the outdoors. The more intimate Cottage range, with built-in terrace, is perfect for visitors seeking a cosier atmosphere.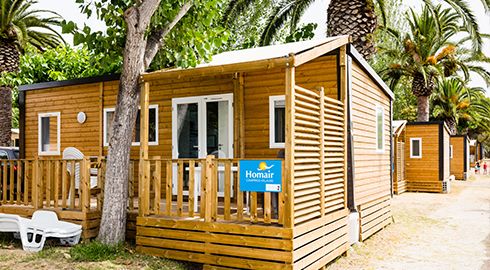 Lovely and new!
Nearly all our Premium mobile homes are certified new in 2017. A few of them were built 2016. The materials used, and layout of these mobile homes, have been carefully considered and selected; our Homair teams do their utmost to offer you the most recent, high quality innovations to ensure your holiday goes without a hitch.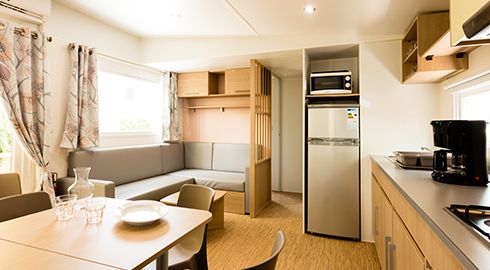 Inside
We've painstakingly selected all fixtures and fittings to ensure your well-being: extremely comfortable bedding, designer furniture, high-end materials, bright streamlined decor, new equipment, e.g toasters (depending on campsites) etc. Nothing has been overlooked. Every detail has been carefully considered to ensure you enjoy maximum comfort when staying in our Premium mobile homes.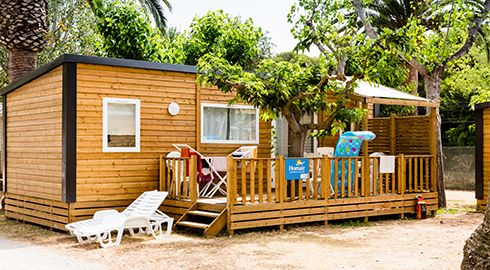 ...and out!
It will be love at first sight: Our Premium mobile homes, set in a large plot of land, feature an XXL shady terrace with broad staircase access, elegant wood cladding, a screen for privacy, new lounge chairs and a low table, as well as a plancha grill (depending on campsites) for your barbecues! In short, it is the perfect accommodation!