3-star campsite: for an unforgettable holiday
Are you looking for a peaceful, low-cost way to spend time with friends? Each 3-star campsite is located in the heart of nature and has quality facilities to make your holiday memorable. A soothing environment, a pool, accommodation adapted to your needs, activities for all ages... Here's to unforgettable family moments.
With destinations throughout France and Southern Europe, finding a Homair 3-star campsite that meets all your needs is child's play. Whether you're just a few minutes, a few hours or a few thousand miles from home, Homair campsites are ideally located for exploring the surrounding area. It's up to you to choose the environment best suited to your needs. Every 3-star Homair campsite is a great place to go on holiday.
Seaside, swimming pool, lake, river, forest...
Homair's 3-star campsites offer the perfect setting for relaxation outdoors with your family. Children, teenagers, parents and grandparents alike will enjoy the relaxed and friendly atmosphere of the campsite in their own way.
Located in a wooded, seaside or lakeside setting, all ages appreciate the peace and quiet that makes them feel right at home.
A sunny siesta on the warm sand, a shady reading session, an early morning swim, a bike ride under the pine trees, canoeing on the lake... It's up to you to choose your favourite relaxing activities!
You can trust the Homair teams to take care of you and make sure you have a simple, worry-free holiday.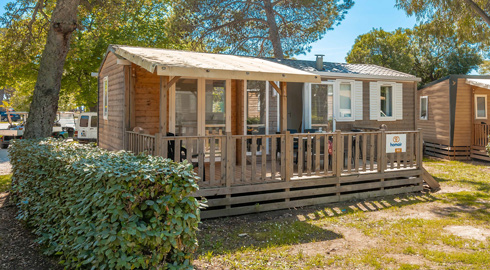 Comfortable accommodation
All Homair accommodation sleeps from 2 to 8 people. Depending on your preferences, needs and budget, you can choose between mobile homes, chalets, studio-bedrooms or opt for a bare pitch to set up your tentor caravan. Each accommodation option has been designed with your comfort and well-being in mind.
At Homair 3-star campsites, the number of mobile home pitches is limited to guarantee peace and quiet. The limit is set at less than 90 pitches per hectare, with a minimum surface area per pitch of 80 m².
The village-style layout of the 3-star campsites, with separate accommodation and social areas, is ideal for juggling moments of relaxation and time together.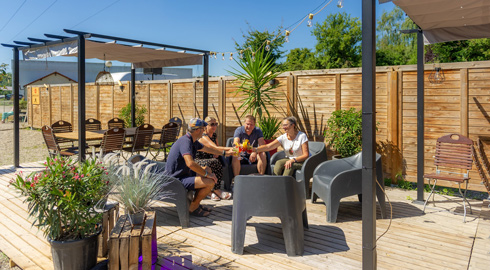 3-star campsite services
Homair 3-star campsites and their services promise special moments and times of sharing and laughter that will stay with you forever. With a bar/restaurant, play areas, laundry facilities and multi-sports pitches, every facility is designed and adapted to ensure your stay is a success.
Unlike a 4- or 5-star campsite, the daily life of a 3-star campsite is punctuated by simple pleasures. Playing cards or pétanque with friends, sharing an aperitif with new neighbours, cycling through the forest with the family... This is a holiday that reconnects you with others.
The Homair teams are at your service: they do their utmost to meet your needs. Your wellbeing is our priority: at a 3-star Homair campsite, you are at home, with us.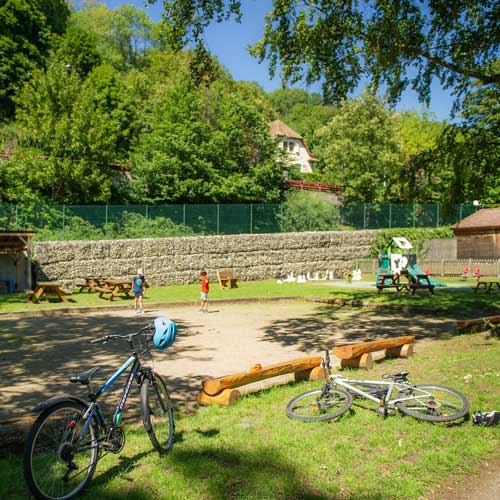 If you're looking for peace and quiet for your holiday, this is the place to go! There's little entertainment, no slides in the swimming pool to shout about... The friendliness of the staff, the cleanliness of the campsite, the direct access to the sea... Hard to find better value for money!