Discover scuba diving
If you are already a scuba diving enthusiast or you want to learn or introduce your children to the sport during your holiday, why not explore the weird and wonderful underwater worlds, near our campsites.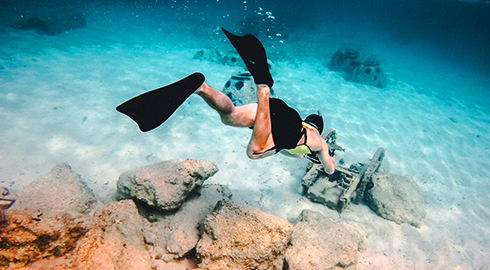 Freediving with mask and snorkel
Our campsites are ideally located for all water-based activities. In fact, more than 80% of our campsites are on the coast or water's edge. Even if you're not a great diver and you just want to explore the sea bed with a mask and snorkel, our campsites are still ideal! You just have to decide where you're going to dive: Spain, Corsica, the Côte d'Azur, Croatia etc.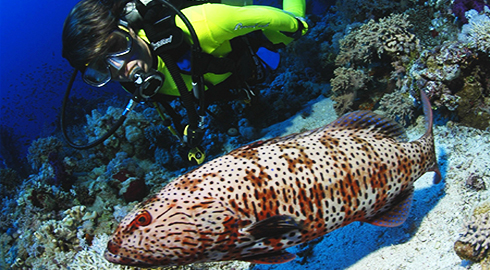 Scuba diving
If you want to go scuba diving, you need to have completed an introductory dive before hand. All diving clubs offer introductory dives, in the sea or a pool, so you can do one at home before your holiday or in one of the diving clubs when you arrive. You'll learn about basic safety, how to breathe properly and kit yourself out ... The underwater wonders of the sea and ocean await you!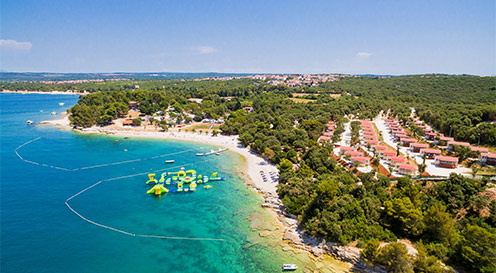 Focus on ... Brioni Sunny Campsite
Our Brioni Sunny campsite in Croatia has made scuba its speciality: the diving centre is located at the heart of the campsite. From one of the campsite's 3 private beaches, you can set out to discover the most beautiful diving spots in the archipelago of the Brijuni National Park. The centre will hire out all the necessary equipment. In the heart of Istria, the turquoise waters of the Adriatic promise an exceptional family adventure!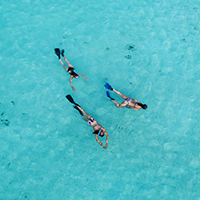 Corsica is one of the most beautiful diving spots in the Mediterranean, ideal for exploring the Lavezzi islands, Scandola nature reserve, the Gulf of Port, Cap Corse and numerous shipwrecks etc.